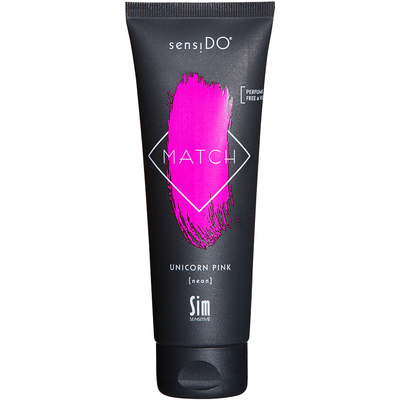 SensiDO Match Unicorn Pink [neon]
Direct dye, a neon pink shade that glows under the UV-light.
Lasts more than 20 wash times
You can intermix SensiDO Match direct dyes
For all hairtypes
Adds shine
Contains UV-protection
Perfume free and vegan
A neon pink shade that glows under the UV-light. Create a beautiful baby pink shade by adding direct dye into the Clear diluter. Mixing Hello Banana and Unicorn direct dyes will create a long-lasting and vivid neon red or orange, depending on the ratios of both shades. Beautiful golden rose color can be achieved by adding small amounts of Unicorn Pink to Clear diluter little by little.
Apply evenly to dry or towel-dry hair. Process for 10-20 minutes and rinse thoroughly. Attn.! Wear suitable gloves, protect your clothes and avoid getting color onto the skin. Can stain towels/sheets when wet.
6417150016906
---
How to?
You can intermix SensiDO Match direct dyes thus creating a fully personalized shade that will fit perfectly. Coloring with SensiDO direct dyes is easy due to creamy consistency ensuring even and effortless application. Suitable for all hair types. Can be used on previously colored hair to add intensity and beautiful shine.

Mixing pastels or reducing intensity?
Slowly add small amounts of Clear diluter into the direct dye pigment mixture until you reach the desired shade. The more Clear diluter you add, the lighter and more translucent is the end result. Easy! To achieve an ultimate light pastel shade end result, hair needs to be pure blonde.