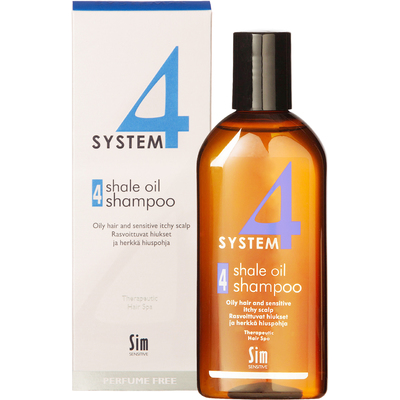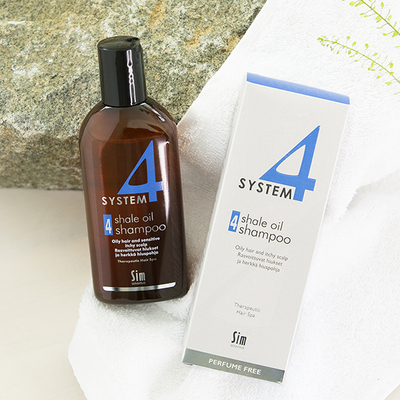 System4 4 Shale Oil Shampoo
For greasy hair and sensitive, itchy scalp
Soothes scalp
Calms itchyness
Balances sebaceous glad activity
Perfume free and vegan
Buy
Struggling with greasy hair and sensitive itchy scalp? Special effective shampoo to help balance scalp and seborrhea. Shale oil enhances cleansing out of sebaceous glands and balancing their excess activity. Helps calm irritated scalp and maintain healthy moisture balance. Leaves hair clean and shiny.
Gently lather onto damp hair and massage into the scalp. Leave on for 2-5 minutes and rinse thoroughly. Leave on longer than an ordinary shampoo.
6417150005481, 6417150011789, 6417150005634
---
Additional products recommended for greasy and itchy scalp:
T- Climbazole Scalp Tonic - leave-in scalp treatment tonic
3 Mild Shampoo - after-treatment maintenance shampoo

In acute situation we recommend 2-4 week long intensive treatment course of daily wash with 4 Shale Oil Shampoo. In the beginning of the treatment Shale oil enhances cleansing out of sebaceous glands. After first 2-3 washes hair and scalp can become greasy and oily faster than usual, but it will change once excess sebum is cleared out. After the treatment course wash amounts can be lowered. We also recommend using T Climbazole Scalp Tonic that helps remove excess sebum, prevent dandruff and itchiness.