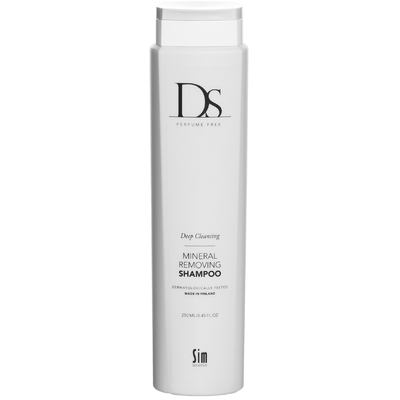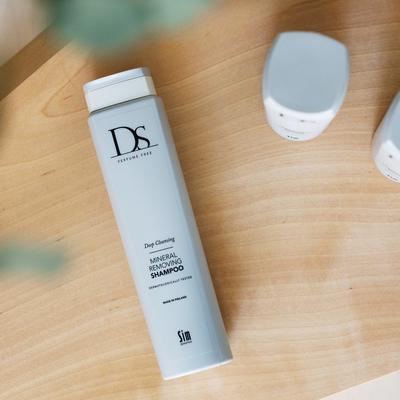 DS Mineral Removing Shampoo
Deep cleansing shampoo
Brightens hair color
Effectively removes styling product residue
Adds volume and thickness to hair
Perfume free and vegan
Buy
Deep-cleansing treatment shampoo. Oftentimes when hair needs hydration it also needs deep cleansing. Mineral removing shampoo helps to gently yet effectively remove styling product build-up, as well as any other impurities. Leaves hair shiny, manageable and airy. Adds brightness to hair color. Suitable for all hair types and conditions.
Apply to damp hair, lather and leave on for 1-5 minutes. Rinse thoroughly.
6417150014889, 6417150014896
---
Tip: We recommend using deep cleansing shampoo 1-4 times a month, depending on use of styling products and water quality. If you want a complete deep cleansing experience, continue treatment with DS Mineral Removing Elixir and Balm.

Hair and scalp impurities are generally considered styling product residue and build-up. Additionally, hair can absorb minerals like copper, iron, magnesium and chlorine from water and air. This can result in hair looking dull or even change color of lighter hair shades.

DS-product line offers products specifically designed to deep-cleanse the hair.

Step 1
Apply Mineral Removing Shampoo to damp hair. Lather, leave on for 1-5 minutes and rinse thoroughly. Continue with DS Mineral Removing Elixir.

Step 2
Generously apply Mineral Removing Elixir evenly through all hair after wash and leave on for 10-30 minutes. Make sure hair stays moist throughout the process. Rinse thoroughly and continue with DS Mineral Removing Balm.

Step 3
Apply DS Mineral Removing Balm to towel dry hair, leave on for 5-10 minutes and rinse thoroughly.