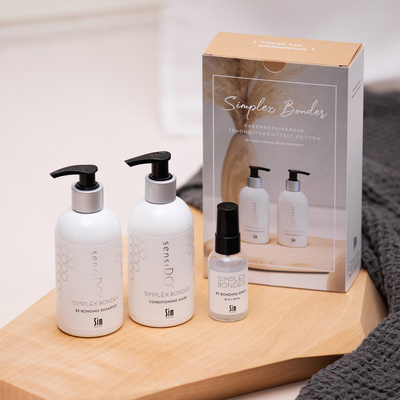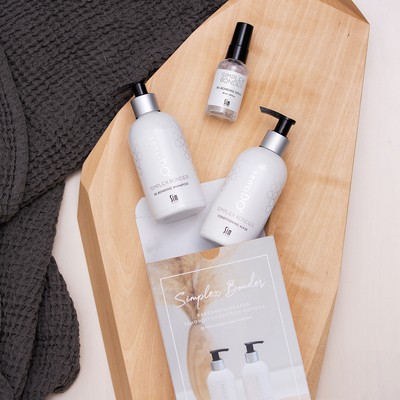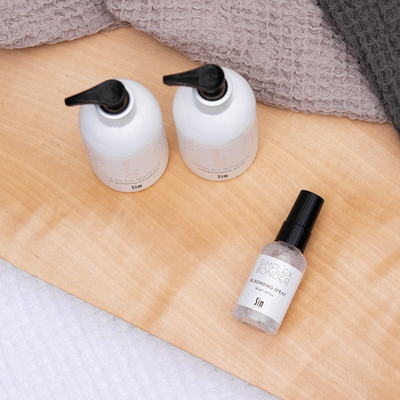 Simplex Bonder kotihoitosetti
Rejuvenating intensive treatment
Reinforces, protects and repairs hair
Effectively strengthens hair
Repairs already existing damages
Suitable for all hair types and conditions
Perfume free and vegan
Are you dreaming of beautiful and healthy-looking hair? Make this hair repairing and rejuvenating intensive treatment at home. Simplex Bonder products revitalize, protect and strengthen hair. The package contains everything you need to perform Simplex Bonder intensive treatment: Re-Bonding Spray 50 ml, Re-Bonding Shampoo 250 ml and Conditioning Mask 250 ml, as well as use instructions.
Re-Bonding Spray intensive treatment liquid (10 ml) is repairing and strengthening treatment liquid that revives and repairs even most damaged hair into beautiful, shiny and strong hair.

Re-Bonding Shampoo moisturises, repairs and effectively strengthens damaged hair. Maintains the achieved repair-treatment result, improves hair color longevity and adds manageability to hair. Suitable for daily use.

Conditioning mask strengthens hair and protects it even from mechanical damage. Maintains the achieved repair-treatment result, adds manageability and shine to hair, leaving it looking groomed. Suitable for daily use as a quick treatment or a deep-conditioning treatment.
Step 1: Comb hair. Spray Re-Bonding Spray onto dry hair lengths and comb to spready through. Leave on for 15 minutes. Do not rinse. Step 2: Apply Simplex Bonder Conditioning Mask onto hair lengths and ends. Leave on for 15 minutes. Step 3: Rinse off and wash hair with Simplex Bonder Shampoo as usual and use Simplex Bonder Conditioning mask as a conditioner. Maintain the achieved results with Simplex Bonder home use products. Suitable for everyday use.
6417150023911