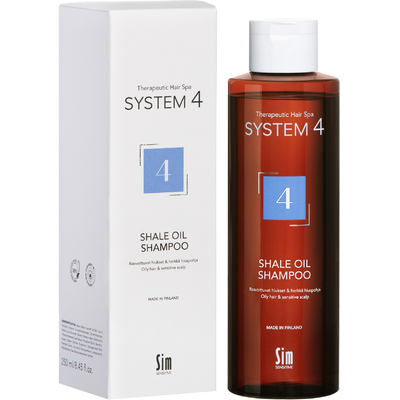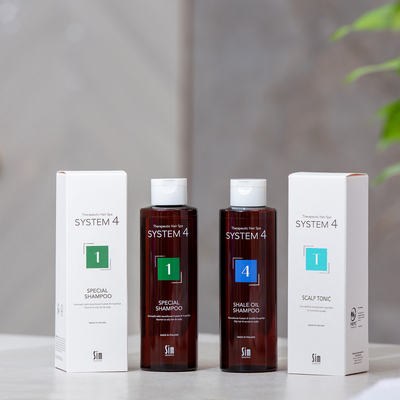 System4 4 Shale Oil Shampoo
Overly oily hair & sensitive scalp
Reduces excessive sebum secretion
Calms itchyness
Soothes scalp
Perfume free and vegan
Bottle made of 100% recycled plastic
Buy
Struggling with greasy hair and sensitive itchy scalp? Shale oil offers help if you suffer from overly oily, greasy and sensitive scalp, and oily hair. Effective special shampoo soothes irritated scalp and supports natural moisture balance without oily feeling.

Shale oil balances excessive sebum secretion and soothes itchy, irritated scalp. Menthol refreshes and promotes scalp blood circulation.
Gently lather onto damp hair and massage into the scalp. Leave on for 2-5 minutes and rinse thoroughly. Leave on longer than an ordinary shampoo.

Additional products recommended for greasy and itchy scalp:
Scalp Tonic - leave-in scalp treatment tonic
3 Mild Shampoo - after-treatment maintenance shampoo

In acute situation we recommend 2-4 week long intensive treatment course of daily wash with 4 Shale Oil Shampoo. In the beginning of the treatment Shale oil enhances cleansing out of sebaceous glands. After first 2-3 washes hair and scalp can become greasy and oily faster than usual, but it will change once excess sebum is cleared out. After the treatment course wash amounts can be slowly reduced. We also recommend using Scalp Tonic that helps remove excess sebum, prevent dandruff and itchiness.
6417150024260, 6417150024376, 6417150024499
---
Active ingredients:

Ictasol
Shale oil. Extremely effective against oily dandruff. Regulates the work of sebaceous glands, removes dandruff, redness and itchiness. Antibacterial effect.

Rosmarinus Officinalis (Rosemary) Leaf Extract
Has scalp microcirculation stimulating and antibacterial effect. Helps control dandruff.

Menthol
Refreshes, activates scalp microcirculation and has an antibacterial effect.