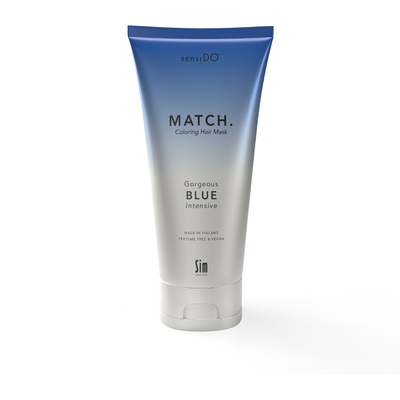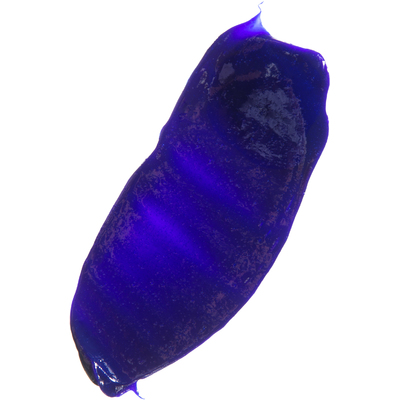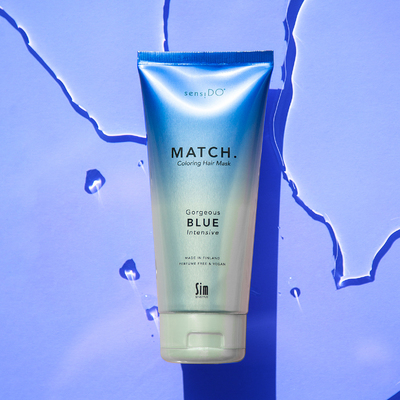 SensiDO Match Gorgeous Blue (Intensive)
Color depositing hair mask
Suitable for pre-lightened hair to add a vivid blue color
Suitable for blue color maintenance
Lasts up to 20 washes
Adds a beautiful shine
Gentle on hair and scalp
Perfume free and vegan
Buy
Moisturising and repairing color depositing mask to add a vivid and long-lasting blue color. Maintains blue color intensity and radiance, adds a beautiful shine. Lasts up to 20 washes, depending on the current color, hair condition and porosity.

Color depositing mask best suitable for pre-lightened and colored hair. You can achieve a slight nuance and shine in virgin hair. Color depositing mask does not cover grey hair and root growth.
Apply evenly to towel-dried or dry hair. Leave on for 10-20 minutes and rinse thoroughly. Wear protective gloves, protect clothing and surface around, avoid applying color to the skin. May bleed onto towels / sheets.
6417150001872
---
Active ingredient KeraGuard

KeraGuard contains a combination of tara tannins and sunflower sprout extract, which create a highly effective hair care elixir. Tannins extracted from tara are highly efficient and stable antioxidants with antimicrobial and astringent properties. Tara tannins help repair hair as they are able to bind to proteins and thus protect hair.

Sunflower sprouts contain essential fatty acids, vitamins and minerals. They contain all nutrients and high concentration protective compounds against hair damage, UV radiation and air pollutants.

Antioxidants prevent the formation of ROS (Reactive Oxygen Atoms) caused by UV-radiation and help repair hair by binding to the proteins. The antioxidant efficiency is comparable to that of Vitamin C.

KeraGuard helps prevent hair color from fading while repairing sulphur bonds. It protects hair structure from damage caused by heat styling tools and provides protection even after being rinsed off.

KeraGuard has been found to protect hair from free radicals and physical stress, which ages hair. With age hair loses protein and pigment which break down. Hair becomes more porous making it more brittle, rough and dull. It also becomes more sensitive to UV-radiation and air pollutants.