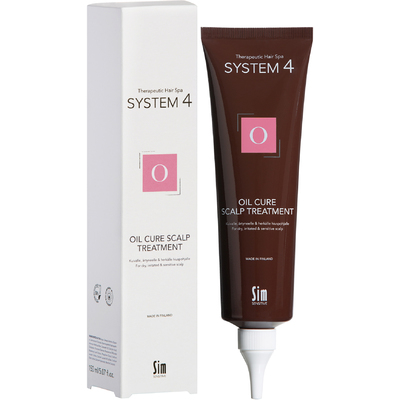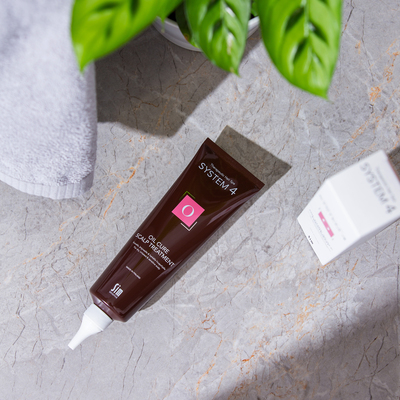 System4 O Oil Cure Scalp Treatment
Peeling mask
Gently exfoliates scalp
Moisturizes hair and scalp
Soothes irritation and itchiness
Adds beautiful shine
Vegan and dermatologically tested
Tube is made of 50% recycled plastic
Confirmed visible improvement in battling dandruff only after 6 days of using System 4 Oil Cure Hair Mask *
79 % less dandruff and scaling after System 4 Oil Cure Scalp Treatment use*
Buy
Are you forgetting to exfoliate the scalp? Hair and scalp care are two different thing, thus taking good care of your scalp should be done consistently. O Oil Cure Scalp Treatment is a therapeutic scalp exfoliating mask ideal for dry scalp. It gently exfoliates the scalp, removing dead skin cells, dandruff, sebum and styling product build-up. Helps maintain the natural scalp moisture balance, soothes itchiness and irritation. Contains salicylic acid that acts as skin exfoliating agent.

The product can also be used as a conditioner on hair lengths. Adds a beautiful shine and manageability.
Apply onto clean scalp with the help of nozzle applicator and gently massage into scalp in circular motions. Add through hair ends if needed. Leave on for 5-30 minutes and rinse thoroughly. Not to be used for children under 3 years of age.
6417150024284, 6417150024390, 6417150024512
---
Are you forgetting to exfoliate the scalp?
Hair care is not the same as scalp care. We oftentimes concentrate only on repairing chemically or mechanically damaged hair and tend to neglect our scalp in the process. Dry shampoo and other styling products used at hair roots strain the scalp. If you want to improve the condition of hair you should start the treatment already at the scalp. Clean, balanced scalp means beautiful, healthy and shiny growing hair.

Regular scalp exfoliation should be part of your routine even if you don't suffer from any scalp disorders. Styling product residue creates build-up on the scalp and at the root area making hair look flat and lifeless. Regular exfoliation helps remove dead skin cells and various product build up. It calms irritation, reduces itchiness and prevents scalp dryness. Exfoliation stimulates blood circulation which enhances nutrient absorption.

Active ingredients:

Cetrimonium Chloride
Antistatic, reduces hair static eletricity.

Dipalmitoylethyl Hydroxyethylmonium Methosulfate
A cationic conditioning agent with emulsifying properties, that helps reduce hair static electricity.

Salicylic Acid
Fights inflammation. Effective keratolic ingredient with exfoliating properties. Antibacterial effect.

Piroctone Olamine
Effective against dandruff causing pityrosporum ovale fungus.

Rosmarinus Officinalis (Rosemary) Leaf Extract
Has scalp microcirculation stimulating and antibacterial effect. Helps control dandruff.

Menthol
Refreshes, activates scalp microcirculation and has an antibacterial effect.